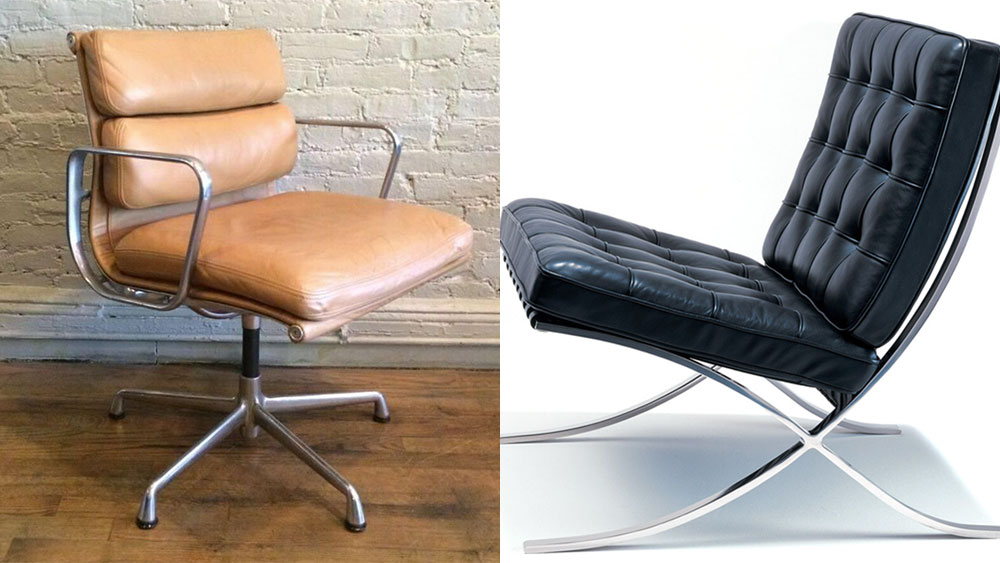 March 16, 2022
Super cool, secret outlet, Follis Associates Liquidations resells liquidated furniture and appliances to the public at 40-90% below retail.
See, when corporations move, they dump their office furnishings. These guys snap 'em up keeping it out of the landfill and then resells them at a serious discount to the public.
That doesn't sound all that exciting until you realize the upscale, Mid Century furnishing treasures to be found here like Herman Miller, Room & Board, Humanscale, Knoll and more.
A Room & Board Surfboard coffee table (signed by the designer) is priced at $400-$500 instead of $1349. Some original, vintage Herman Miller Eames leather & chrome swivel office chairs were here at $700 instead of $2000. Humanscale chairs were $125-$150 instead of $800-$1100. A couple of wood, wine cabinets were $100 instead of $400. The Herman Miller Barcelona Chair was here at $800 instead of $4000. An Alera leather reception sofa was a steal at $500-$600 instead of $1300. Herman Miller Mesh office chairs were $400-$500 instead of $979. An American Leather  Mod Recliner was here at $1000 instead of $4000. Some electrical Sit Stand desks by Steel Case were a great buy at $200-$500 instead of $2000. A 6 month old Sub Zero fridge that retailed at $10,000 was here at $5000 and some Knoll Saarinen executive office chairs were $1400 instead of $4000 each.
There were a lot of classic chesterfield tufted chenille sofas here. But Miriam, who is a delight and had been given me all the prices, had left.  Since the prices here are not on the product, you've have to ask. But the more you buy and the longer the piece has been on the floor the lower the price gets.
The caveat here is, this outlet is off the beaten path. The warehouse has no signage and is in an obscure industrial area. Lots of things are stacked higher than you can see to inspect or are piled in jumble in a room. The other issue is that everything here is technically used, even if it's only been stored or used 1 day.  They also will not clean the furniture till you tell 'em you want to buy it. Nothing leaves the warehouse unless it's been cleaned and inspected. So you'll have to hunt and maybe bring a rag with you so you can inspect each piece better.
All that said, you'll save a bundle at this bustling, well staffed warehouse. There is plenty muscle to help you pull or move things.
A great warehouse to save on Mid Century design. Realtors and Interior Designers haunt this secret place to pick up real gems at bargain prices. You should too. Love it!
Follis Associates Liquidations Warehouse 
839 Meridian St. , Duarte CA  91010    (909) 643-3142
Mon – Fri. 8-4, Sat. 8-1
Cash/CC/ Zelle/ Venmo/ PayPal
No sales tax with Cash.
 Tell, Miriam BargainsLA sent ya!