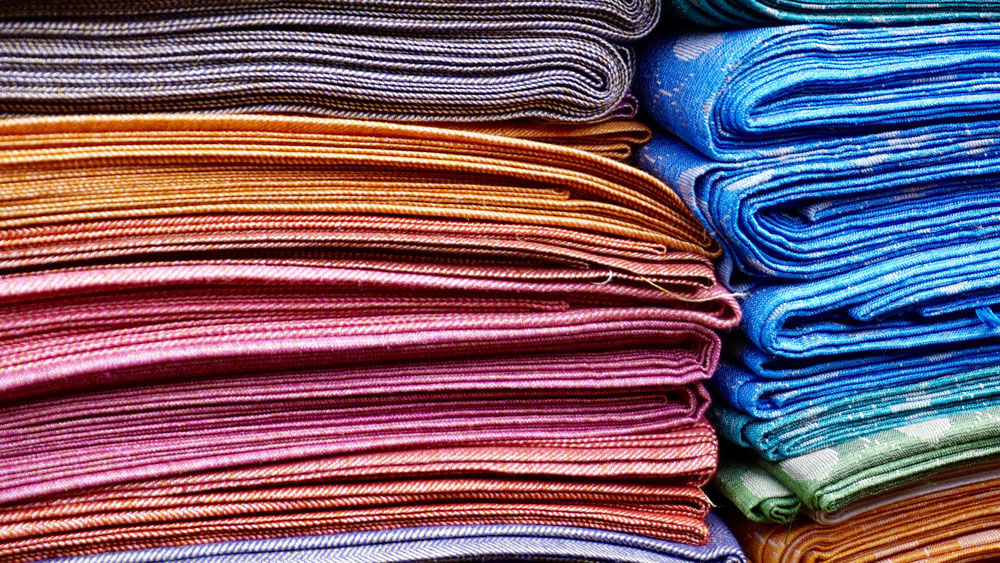 July 17, 2018
Fabric Merchants Retail Outlet is a wholesale fabric outlet with discounts of 50%-85% on apparel and home décor fabrics.
Buying direct from the wholesale manufacturer is still the best way to get the best price on anything…. Including fabric.  So, Fabric Merchants Retail Outlet is that store.
Both a manufacturer and a wholesaler, they supply fabric stores, designers, and home décor stores with fabric from both their own line of textiles as well as buying and trading current lines of other mills to different stores, online outlets and manufacturers nationwide.
With over 1 million rolls of fabric, their public warehouse retail outlet has savings of 50%-85% on apparel and home décor fabrics. You'll find everything here including jersey knits to brocades, cottons, chenilles, faux fur, denim, lace and vinyl at outstanding discounts. Fabrics are current often ahead of season.
Here, most tables are laid out with fabrics that they have bolts of  more fabric further back in the warehouse.
Generally, 70% of the warehouse is apparel fabric and 30% is home décor. But they had a big shipment of home décor fabrics coming in. They have current denim fabric for 7 For all Mankind in as well as rolls and rolls of fabric used by Splendid/ Ella Moss.
Apparel Fabric pricing is low…. Often lower than DTLA and without the parking hassle.
This Wholesale Fabric Outlet Highlights include:
Printed Denim is $3.50 a yd. (retail $10-$17)
Cotton prints are $3.25 a yd.
Suiting fabric is $2.95 a yd.
Printed Lace is $2.65 a yd, (retail $7-$9)
Rayon Chalis is $3.50 a yd.
Brushed Poly prints are $4.95 a yd.
Rayon Spandex is $1.95 a yd.
Embroidered eyelet is $4.95 a yd.
Swimwear fabric is $3.50 a yd.
Cotton Solids $1.95 a yd.
Asics Athletic knits are $1 a yd.
Floral knits $3.95 a yd.
Denim Chambray $2.25 a yd.
Wool $7.95 a yd.
7 For All Mankind Denim was $4 a yd.
Sweater knits (Ella Moss) was $3.25 a yd.
Faux Fur was $5.95 a yd.
Their Home Décor fabrics included Waverly, Mill Creek and Colonial Williamsburg. So, I was pretty stunned at a Waverly fabric I bought at Jo Anns Fabrics (on sale at $11 a yard instead of $22) was here at $4.95 a yd…. an 85% savings.  Yes, Jo Ann's still carries it.
Most drapery fabrics and home décor fabrics were $4.94 instead of $15-$25 a yd. Chenille fabric ran $2.94-$5.94 a yd. But, some Home décor Velvet fabric was an astonishing $3.99 a yd. instead of $8-$12 in DTLA.  Classic Toile was $4.94 a yd. and Vinyl was $3.75
Owner, Steve and his family have been involved in textiles for generations. With established relationships with garment companies and mills worldwide, Steve's Fabric Merchants Outlet Warehouse should be your first "go to" outlet for fabric.
Fabric Merchants Retail Outlet
1430 S. Grande Vista Ave.
Los Angeles 90023   MAP
(323) 267-0010
Hours: M-F. 9am-5pm,
Sat. 9am-3pm