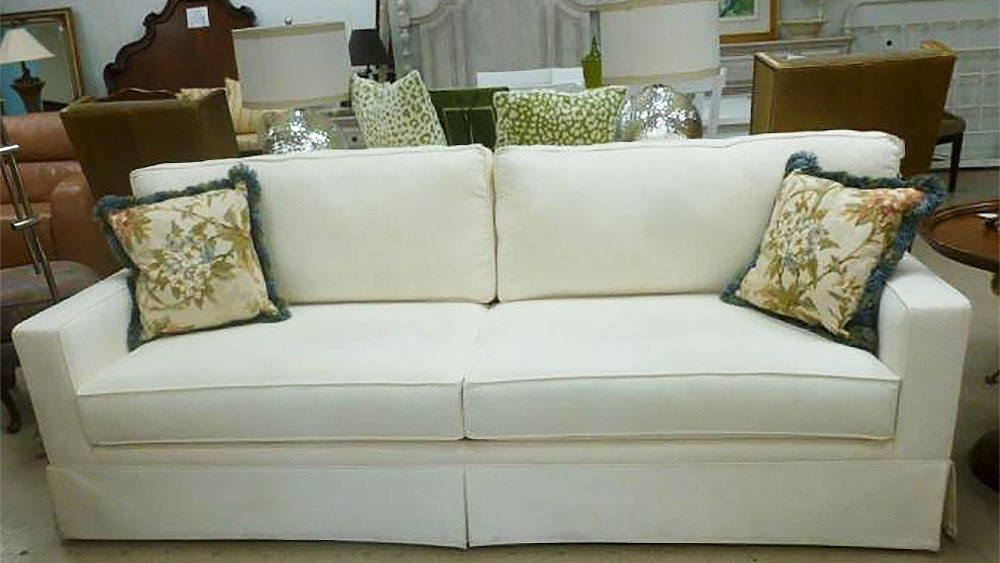 February 28, 2019
Encore Decor is hidden away in a retail mall, next to a CVS. So you might overlook this Furniture Consignment Store.  But you shouldn't! Inside were some beautiful contemporary pieces at prices that were 50-80% below original retail.
I walked in late on a Saturday afternoon. The store's inventory was sparser than normal. Many pieces were marked sold. Two sold right in front of me. I could see why. The pieces here are stellar in design & quality in both classic & contemporary…. and the pricing, sweet!
Hot buys included a Robert Allen sofa for $850 instead of $3800. A brand new Pottery barn settee was $600 instead of $1300. A chic geometric, Hollywood regency styled glass coffee table was $225 instead of $900 new. A modern, sleek leather sectional w/ 2 recliners was $1400 instead of $4000. A Natuzzi contemporary leather sofa was just $750 instead of $2000. Some Ethan Allen striped upholstered chairs were $385 each instead of $1100. An incredible mint, dark brown Baker sofa, chair and ottoman set was $600 instead of $8900. An Ethan Allen tufted sofa was $750 instead of $2200 and a 7' x 42" contemporary "Farm House" –esque dining table w/ 6 chairs & 2 leaves was $1950 instead of 3900.
I kept eyeing a French rustic desk at $75 and a wicker, love seat rocker w/ pillows & cushions at $275. Oh…. If I only had a place for them.
Owner of this cute Furniture Consignment Store, Monique is picky about what she accepts on consignment. She only accepts the best in quality and design. Then she sells them quickly to savvy customers who haunt this shop looking for the best for less.
A great source for those who love beautiful, quality home furnishings on a budget!
Encore Décor Consignment & Design
2130 Newbury Rd, #C, Newbury Park, CA 91320
(805) 498-7250