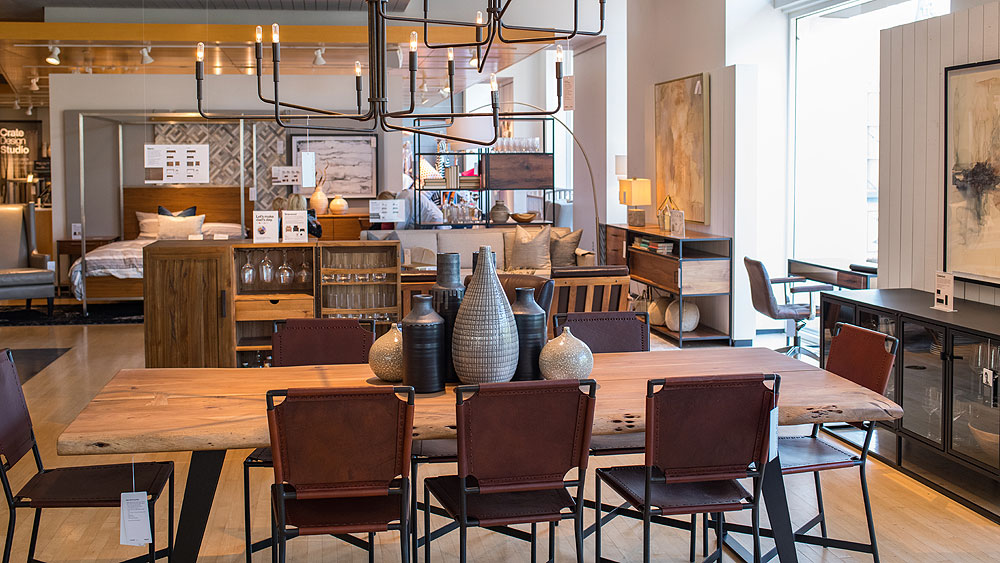 April 22, 2019
Love Crate and Barrel? Want to pay less? Then check out the Home Furnishings and Decor Online Outlet of Crate and Barrel. Savings run 10%-60% on everything from furniture and pillows to home décor, kitchen and bedding.
Navigating this site isn't easy… it keeps taking you back to the regular site. Most deals are 10%-45% off but, the best buys here seem to be in items that are seasonal or have been discontinued.
Im partial to the decor here. Like some Melamine Breezy plates for $4.99-$10.99 instead of $8-$20. A Cedar Wreath Topiary is now $16.95 instead of $34.95. A snowman doormat was $19 instead of $39. Some lime and cobalt colored votive candle holders were just 50 cents!  The savings are here, but you got look and should really want the item.
Fun, unique furniture deals are here. Like Libations Bar Cart tat was $599 is $479 and a Huron Lift Top Coffee table is now $589 instead of $699. An oval marble pedestal dining table that was $2200 is now $1699 and a Dusty Pink swivel dining chair for $299 instead of $399. An amazing Rowan Circle Table lamp is $199 instead of $249 and a plush, 6 x 9′ Topanga Teal Moroccan rug that was $799 is now $479.
Bedding here is always a favorite. Like a A Plaza Peridot green coverlet was $99 instead of $199. A Belgian Flax Linen Moss quilt set that was $60 is now $29.97 and the incredible Audra deep blue velvet quilt is $120 instead of $299
The standard shipping charges correspond with the cost of the item from $4.95 – $21.95+.
It can be hit or miss at this Home Furnishings and Decor Online Outlet. But if you love Crate and Barrel, I'd check out the online outlet every few weeks, to see what the new deals will be.
Visit Site: Crate and Barrel Clearance Outlet